Job Applicant Services
Job Applicant Services
Our professional job search services include cost-effective a la carte services designed to help you get noticed by hiring managers and feel more confident as you begin your job search. We know what HR recruiters are looking for, and we want to ensure you have a positive job search experience.
Whether you're looking for a better position in your field or seeking a career change, we can uncover your potential and help you secure your next career opportunity, whether it's with resume writing, strength finder assessments, mock interviews, or helping you get the skills you need for that next job.
If you are looking for growth in your current position or looking to stand out among other applicants, speak to one of our consultants about how we can customize our professional development services for you!
Remember, Smarter HR Solutions does not charge a fee to market you or your resume to our clients. We look forward to partnering with you!
Types of Job Applicant Services
Resume Review and Creation 
We offer first-rate a professional custom resume writing service, providing helpful career tips and more to help get your career on track.
We will critique your resume and assist you in designing and creating a resume that will best highlight your skills, expertise, education, and individuality. We help you create a resume that will get the attention of hiring managers.
A resume is your calling card…we help you get called!
---
Mock Interview
Your resume could help you get your foot in the door, but it's not going to do you any good if you freeze up during an interview. Most people get nervous during a job interview, which is why Smarter HR Solutions offers mock interviews. We'll walk you through the most common questions that you might encounter, perform a mock interview from beginning to end, and then give you an evaluation of our performance.
Even if you're a people person and aced your last interview, it's a good idea to brush up on your interviewing skills. The style of questions changes all the time, as do the answers that interviewers are expecting. Let us get you up to date!
---
Strength Finder Assessment
If you're not quite sure how your skills fit into the current job market, you're not alone. Many people are very talented and have extensive experience yet don't know about all of the jobs and careers out there that could be perfect for them.
At Smarter HR Solutions, we'll help you evaluate how the skills, experiences, and interests you have can help you find a job that's more suited to you than your current one. If you have to work, why not find a job that you truly enjoy and can feel good going to every day? A skills evaluation can do just that. Contact us today to have a strength finder assessment performed!
---
Skills Training
Maybe you know the exact career you're interested in but are lacking just a few of the skills that everyone needs. If so, don't worry; Smarter HR Solutions can identify the gaps in your skillset and get you the training you require to further your career.
Don't let small knowledge gaps get between you and the job you want. Contact us today and we'll help you get the right skills for the right career!
---
Career Coaching and Counseling 
Seeking assistance with a career change, needing interview techniques, or looking for training to increase your skills to obtain that new promotion? Smarter HR Solutions can help.
We assist individuals who are looking for professional assistance to help them be more competitive and skilled job seekers as well as guide them to becoming indispensable and "value-added" employees.
If you want professional expertise to help you achieve your career goals and professional growth and success, WE are your solution!
We can assess your skills, strengths, and weaknesses, and provide computer training, soft skills training, interview coaching, resume writing courses, and professional growth counseling to help you reach your potential.
---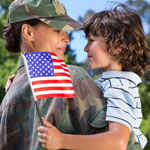 Military to Civilian Career Transition
It is our honor to recruit military personnel in transition. We provide employment assistance to United States Armed Forces Commissioned Officers, Non-Commission Officers, and Military Personnel who are eager to add value to your organization.
Benefits for Former Service Members:
Free or low-cost resume and job seeking assistance solutions
Access to our knowledgeable recruiters and Career Coaches
Access to computer training
Soft skills training and seminars
---
Network Coaching
Looking for the right opportunity? Let us help market you through various social media platforms and networking opportunities. Your next introduction may be your next career opportunity.
We will walk you through how to manage job boards, how to post your resume, and how to create cover letters that get you noticed by hiring managers.
---